I asked my friends from Coffeeteatrip to share some hints on how to pack for camping time out in the nature as they are experts on it. This is what they came with.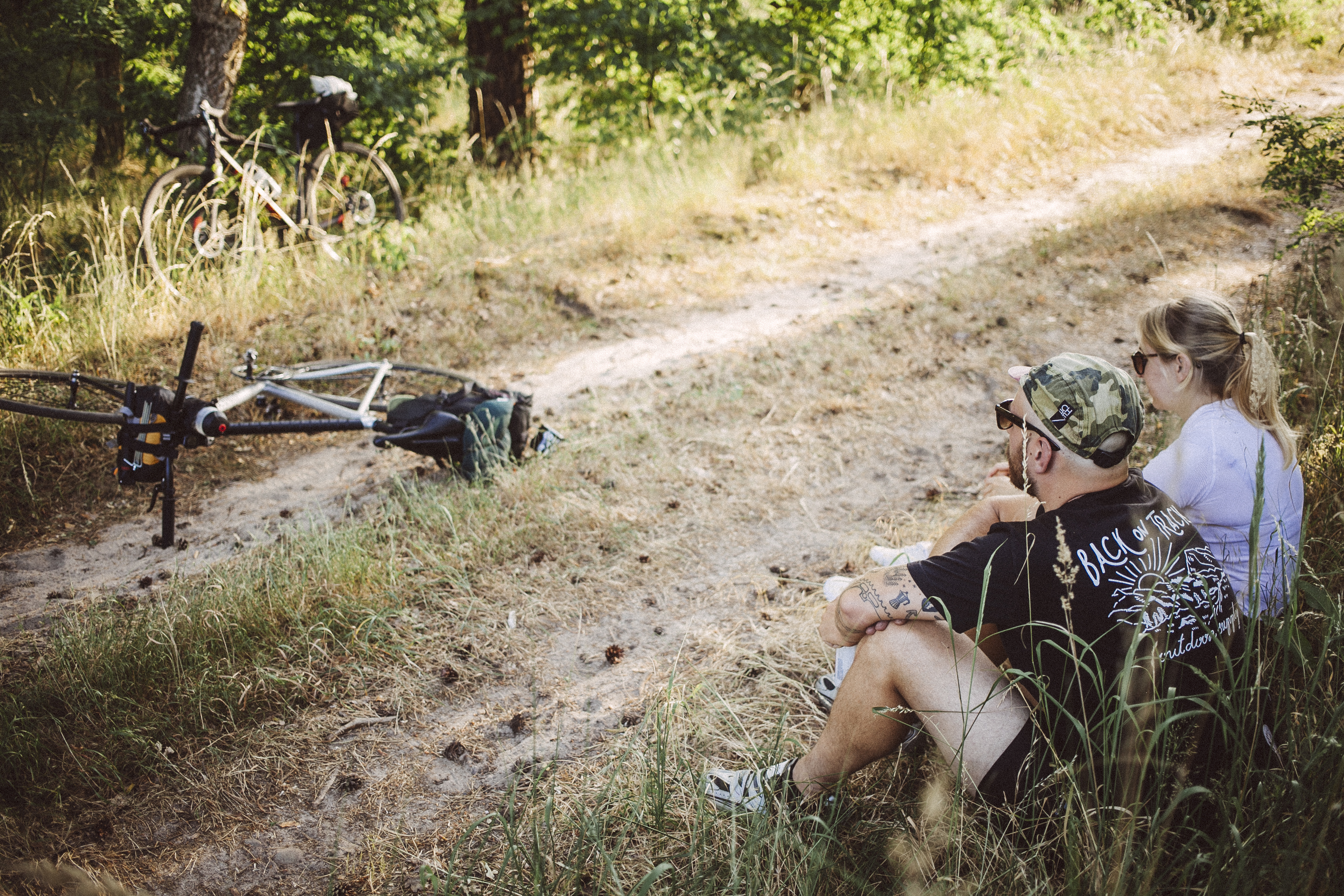 We like coffee, tea and trips – guess you can read that in our blog's name. Recently we really got into camping – nature, coffee and we are one the go. But before we set off there is always this same issue – what shall we take? Something to sleep in, prepare meals, change. Below you can find one of the sets we take for a night or two. Everything is packed in a waterproof bag fixed to the steering bar by Packman bag from Triglav, saddle bag from Wciąż w drodze and a frame bag unfortunately made by us. Unfortunately because we are not good in sewing and we have to fix it every trip – but well it works.
So this is what we pack – from the top left to the right:
first aid kit (mostly adhesive strips, painkillers, antidiarrheals plus a tooth brush and tooth paste)
tarp pegs
Stanley pot
Cafflano Classik – grinder, drip and thermo cup in one, plus a metal mug,
coffee
gas cylinder (usually a smaller one but this is an XXL version from last swift camp where it had to serve a lot of people)
frying pan, handle, spoon-fork and MSR cooker,
hammock Lesovik Ultralight
tarp Groza Ultralight
self inflating camping mattress from Decathlon (when it's colder we put it in the hammock to save our asses from being cold, when there are no trees we put it under the tarp)
a rain coat and a head lamp
some cloths, swimming gear and a towel
down coat from Lidl (not a very small one and hope we won't need it in the evenings now)
oldschool Pajak sleeping bag – old but gold
inflatable cusion
tool bag
Since this is all the cooking equipment all the food is carried by another person. But if you have to go by your own there is still some space for the food. Usually tortillas, eggs and bacon for scrambled eggs.
Additionally we take a hip bag with a phone, wallet, lights, a lighter, power bank, cables and small packable bag for beer bought in the last open shop.
Hope it helps to embrace your summer camping vibes! And remember – riding is about having fun, not achievements.